The PPC Agency For Your AdWords
Management
If you are looking for a professional PPC Agency in the UK you have come to the right place. We prepare and run Google Ads campaigns that gain you immediate traffic and ultimately, get you more leads and sales. We're an accredited Google Ads agency specialising in Google Ads, Google Shopping, Remarketing, YouTube Ads, and the Google Display Network.
Professional Google Ads Campaign Management
As a successful PPC agency in the UK, we understand how important it is for any business to utilise Google Adwords as part of their sales process. Because of the complexities of SEO, it can take months or even years to rank a site at the top spot in Google for your important keywords and phrases. Google Ads is a fantastic way to reach the top spot sooner.
All businesses face a problem though: Google Ads like SEO is horrendously complex! Google makes it oh so easy for a business to set up and start paying them money but if you actually want your campaigns to work and by work we mean.
Paying the least amount possible for your clicks
Whilst converting as many of those clicks into clients
you need to be using expert mode and like the name suggests you need to be an expert to understand how to get the best out of it.
Creating effective Google Ads campaigns that achieve killer results is neither quick nor easy. That is where we come in. As a premier PPC agency in the UK, we set up and run your campaigns for you with our Google Adwords management service.
We have been using Google Adwords since its launch in 2001 and as such our team has over 20 years of experience as a PPC agency. Thanks to this experience, we can run and manage Google Ads campaigns to achieve the best results for your business – in terms of clicks, exposure and those all-important conversions.
When you hire us, you get the full benefit of collaborating with a team that will oversee all aspects of your ads, from setting everything up, reviewing ads and optimising them to managing bids and creating ad copy. At 15DegreesNorth, we put the time and effort into ensuring your business enjoys the success it deserves.
We don't set up your campaigns, start getting sales and leave it all to you. We are passionate about getting the best out of the Google Ad campaigns we work on, so we will continue to monitor them, testing and tweaking them constantly to increase the return on investment continually. We run a 46-step optimisation checklist on all campaigns constantly ensuring that we achieve the maximum ROI (Return on Investment) & ROAS (Return On Ad Spend) for you.
A PPC Agency That Cares about Your Business
Since 2001, we have helped hundreds of small and medium-sized businesses increase their traffic and website leads and sales. We have achieved this by using regularly tried-and-tested pay-per-click marketing strategies.
Every Google Ads campaign we run focuses on the one thing that makes a difference to your business: driving leads and sales.
We love nothing more than hitting our CPA (Cost Per Acquisition) targets and seeing a client grow, scale and expand their business. The buzz and sense of achievement that knowing we've contributed to that growth brings is hugely addictive.
Google Ads Management – How We Do It
Our PPC agency team has many years of experience running Google Ads campaigns and achieved some fantastic results for businesses over the years that have grown and reached their goals and exceeded them.
At 15DegreesNorth, we are results-driven and have the expertise, skills and experience necessary to get consistent and tangible results for your business.
Auditing Google Ads Campaigns
If you have Google Ad campaigns currently running that aren't getting the results you feel they deserve, we can help. We will conduct a comprehensive audit of the performance of the campaigns and highlight any tweaks we can make to them to boost them.

Setup Google Ads Campaigns
At 15DegreesNorth, we personally oversee the complete setup of various Google Ads campaigns. Our experts have experience working on YouTube Ads, Remarketing Lists for Search ads (RLSAs), remarketing ads, display ads, Google Shopping or PLAs (product listing ads), and the new Performanmce Max ads.
Google Ads Campaign Management
Regardless of whether you need brand-new ad campaigns or have existing campaigns running that need improvement, we can supply consistent and effective management to help increase the efficiency and results of your campaigns.
Tracking of Ad Conversions
Tracking conversions is crucial to ensure your PPC ad campaigns are successful. You are making bids without concrete knowledge of what will work. At 15DegreesNorth, we ensure conversion tracking for your Google PPC ad campaigns is set up correctly. Once we have our comprehensive tracking setup, we can determine how well your landing pages and related campaigns perform.
Create Ad Copy
Our team knows what works well with Google Ads copy to create the type of campaigns that will showcase your business and maintain consistency with your brand voice. The aim is to encourage your target audience to click on those ads to lead you to your site.
As part of our commitment to providing ongoing support, we evaluate the performance of all ads we run for you regularly, tweaking or adding alternative ad copy to ensure you are always leading your marketplace.
Development of Effective and Engaging Landing Pages
Now we come to landing pages. There is no point in having a superb Google Ads campaign if it does not lead to an equally high-quality landing page with killer sales copy and CTAs (Call To Action).
The copywriters on our team can produce landing pages that capture your business's unique voice and values, tap into your visitor's deep needs and wants, and sell the products and services you offer to them to secure those all-important conversions.
Would You Like to See How a Professional PPC Agency Will Help You Achieve Your Business Goals?
Our experienced and talented PPC agency experts are waiting to assess your current marketing strategies. We will look at what you have done so far and provide our suggestions for how you move forward with your Digital advertising.
Click below to request a free strategy session with us!
Your Google Ads Campaign – The Process
Step One – Google Ads Account Setup and Strategy
As a professional PPC agency we understand that the Google Ads campaigns that are most successful are those that have the strong foundations of a robust strategy, airtight setup from the beginning and detailed structure throughout.
The first month of your Google Ads campaign is spent crafting and tweaking your strategy and creating effective advertisements. Although you may be raring to go, we will not rush to put up half-ready ads and spend your budget on a strategy that won't gain the conversions you desire.
At 15DegreesNorth, we take a slow and thorough approach to planning and building up highly structured ad campaigns designed for specific members of your target audience and the services or products that interest them. Not only that, but we will develop the best ad copy to ensure your ads are converting.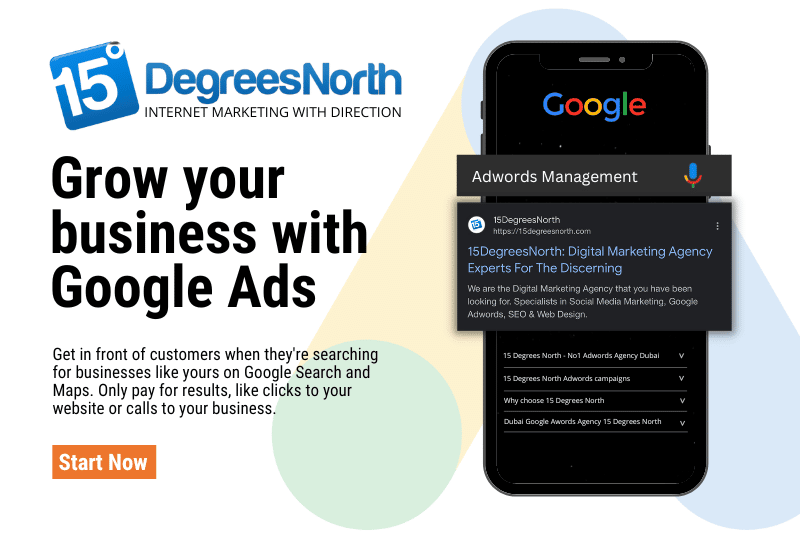 Step Two – Analysis and Development of Landing Pages
One of the questions we are asked more than any other at 15DegreesNorth is how long it will take for your PPC campaigns to start converting. The answer to this question highly depends on your landing page, how well it performs, and whether it has been optimised to secure conversions.
A website or business could have a great set of fully-optimised pay-per-click ad campaigns. However, if they have a landing page yet to be designed with conversions in mind, people will likely bounce from the page the moment they arrive or struggle to find exactly what they are interested in quickly enough to convert.
Our PPC agency has an expert team of copywriters that make recommendations about landing pages from the moment we start collaborating with you. As it is in our best interests, we will not send paid traffic to your site's pages if we feel they need to be edited or created first.
Although there are times when it isn't apparent whether landing pages will perform well, our expert team can determine this once PPC ads campaigns are up and running. If we discover that the landing pages are not performing well after the campaigns have begun, we will act quickly and offer recommendations.
Step Three – Management of Google Ads Campaigns
It is crucial that once you have PPC ad campaigns up and running that you have comprehensive management of those ads and campaigns. At 15DegreesNorth, we use an extensive list of campaign optimisations to ensure they secure the best return on investment. Included are regular reports on search queries to identify new high-performance keywords and decide on any negative keywords that need to be added. We will also oversee the optimisation of bids, make tweaks to ad copy and review the performance of landing pages.
Once we have the winning formula to run ads successfully, we will discuss your options for scaling to reach your sales targets and business goals.
Step One – Free PPC Agency Consultation
Get your PPC agency and website consultation by filling in the form below. We will discuss with you your needs and also analyse your marketing and website. Armed with this information we can then provide recommendations for your business's best digital marketing approaches. If you currently run PPC ads, we will analyse those too.
Step Two – Marketing Review Recomendations
We will supply recommendations for improving your marketing and website and outline how you can reach your business goals.
If we believe Google Ads is a good approach, we will include this in our recommendations. On the other hand, if we believe you will not succeed with it, we will explain why.
Step Three – Make the Choice to Implement Our Recommended Marketing Strategy
As part of the review process, we will discuss exactly how your site could earn more traffic, leads, and, eventually, sales. If you want to have a shot yourself, we wish you well and ask that you let us know how it goes. If you want to outsource marketing to us, we can't wait to get started developing a plan of action using our recommendations.
Remember our PPC agency is always here to answer any questions that you may have.
Step Four – Watch Your Websites Traffic, Leads and Sales Increase
When you choose 15DegreesNorth as your PPC agency partner, we will collaborate with you from start to finish. As you note your brand visibility, traffic and leads grow, we will conduct reviews to improve that growth even further. Rather than just settling on a nice plateau, we will always push so that your business can achieve the greatness it deserves.
Use This Simple Form To Contact Us About
AdWords Management
Frequently Asked Questions
Not Sure If You Need Google Ads?
Our Digital Marketing Consultants are here waiting to help you.
Request a free marketing review today and they'll help your business to achieve
your one-year, five-year, or 10-year goals.